[ About our meat ]

The Village Butcher carries a fine selection of Brandt Beef prepared to the customers specifications by George and Josh while you are waiting. The beef is all natural and raised in a stress free environment, with no added hormones, steroids or unnessary antibiotics. Brandt Beef also provides 100% source verification of their product. "When tested against competitors in their specific category, Brandt Natural Beef's line rated highest in the flavor, texture and tenderness categories which are crucial for chefs and consumers alike."

[ Bakery ]

Mary, our baker, has been with the Butcher Shop for 25 years. She produces the best cookies, brownies, lemon squares, magic squares, muffins, pies, and many other sweets. Other favorites include her beloved cheese breads and cinnamon rolls, which has everyone coming back for more.

[ Deli ]

Co-owner, Linda Racicot, manages the Butcher Shop's Deli. All the salads, soups, lunch specials, and sandwiches are made fresh daily. Our sandwiches are made to order, and include everything from our popular BLTs to Italian grinders. Customer favorites include, Linda's deviled eggs, George's BBQ chickens, Josh's homemade meatloaf, and many other homemade goods. Sliced meats and cheeses are also available by the pound.



[ Frozen Goods ]

The Butcher Shop prepares meat and fruit pies that are made fresh daily. The pies are than frozen for you to take home and bake in the comfort of your own home. The chicken pot pies are one of our favorites. George makes a pork pie (tourtière) using a special recipe handed down from his french ancestors that is very popular all year round especially around the holidays.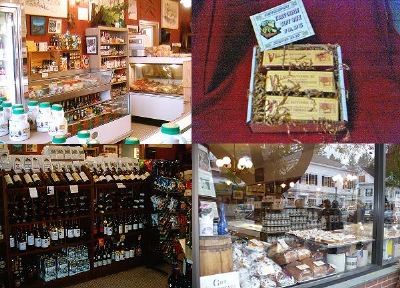 A great variety of Vermont Maple products can be found at the Butcher Shop. Jams, jelly's, apple sauce, mints, crackers, and other assorted products are available.
Maple syrup produced locally by the Richardson Family has been a top seller for 35 years. Gordon Richardson graduated highschool in Woodstock with George in 1960.
Recently we've added another fine selection of maple syrup produced by Ned Macksoud, another friend of George's of Maple Crest Farm.

[ Wine and Cheese Selection ]