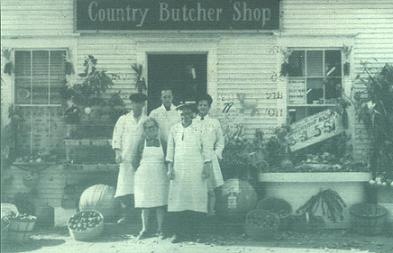 Early
1960's

George Racicot, owner of the Village Butcher Shop, started cutting meat as an apprentice to his father, Herve, in 1957 while working at Houghton's Red & White, located on Central Street where the yankee bookshop is now.

In the early 1960's, George joined his father to start the Country Butcher Shop located 3 miles west of Woodstock across from the covered bridge. The real estate was sold and George relocated in Woodstock at the east end of the village where the laundromat is now.

In 1972 A fire destroyed a building on Elm Street and George made a deal with the landlord to rent the space after it was repaired.

It was then decided that the older building would be taken down and a new building would be designed and built to house a butcher shop. With the help of the landlord, George has enjoyed 39 years as The Village Butcher of Woodstock.

Today, 50 years later (1962-2012), the Village Butcher remains to be an old style butcher shop where meat is selected and cut for customers as they wait.